As part of her exhibition at the U.S. Pavilion, Leigh will bring together scholars, artists, and activists from around the world for a major project, Loophole of Retreat: Venice.
Organized by Rashida Bumbray, Director of Culture and Art at the Open Society Foundations, with curatorial advisors Saidiya Hartman, University Professor at Columbia University, and Tina Campt, Owen F. Walker Professor of Humanities and Modern Culture and Media, Brown University, the three-day symposium will comprise dialogue, performances, and presentations centered on Black women's intellectual and creative labor.
Loophole of Retreat: Venice builds on an eponymous one-day convening held in 2019 at the Solomon R. Guggenheim Museum in New York. The conceptual frame is drawn from the 1861 autobiography of Harriet Jacobs, a formerly enslaved woman who, for seven years after her escape, lived in a crawlspace she described as a "loophole of retreat." Jacobs claimed this site as simultaneously an enclosure and a space for enacting practices of freedom—practices of thinking, planning, writing, and imagining new forms of freedom.
Attending Loophole of Retreat: Venice
Loophole of Retreat: Venice is a ticketed event that is free and open to the public. The symposium will begin on the morning of Friday, October 7th, running all day Friday and Saturday, and will conclude in the early afternoon on Sunday the 9th. While attendance throughout the entire weekend is not mandatory and guests are free to come and go as they please, guests are encouraged to plan their travel for arrival prior to Friday morning and departure after Sunday afternoon to make the most of the biennale and surrounding exhibitions.
Capacity at the Fondazione Cini is limited. To attend Loophole of Retreat: Venice, you can secure your reservation below. In doing so, you will reserve a spot at the symposium. In summer 2022, you will be contacted to confirm your travel plans and reaffirm your intention to participate in the weekend symposium. With the reservation system, we are working to ensure that no one reserves a space but does not end up attending, thereby taking a spot that could be offered to another guest.
Rashida Bumbray
Curator, Loophole of Retreat: Venice
Director, Culture and Art, Open Society Foundations
Rashida Bumbray is the director of Culture and Art, the Open Society Foundations' program dedicated to advancing diverse artistic practices and strengthening locally led cultural spaces around the world. Since joining the Open Society Foundations in 2015, Bumbray has launched and overseen many new grantmaking initiatives in global contexts including the Global Initiative for the Restitution of African Cultural Heritage, the Soros Arts Fellowship and the OSF Arts Forum on Art, Public Space and Closing Societies. With colleagues from Haiti's FOKAL, she helped to inaugurate a new Caribbean cultural foundation, and in collaboration with Open Society-US, she established the Alternative Monuments Initiative.
Bumbray began her curatorial career in 2001 at the Studio Museum in Harlem, New York, where she coordinated major exhibitions including Frequency (2005) and Freestyle (2001). As associate curator at The Kitchen, New York, Bumbray organized critically acclaimed exhibitions and commissions including Simone Leigh's solo exhibition You Don't Know Where Her Mouth Has Been (2012), among many others. She was guest curator of Creative Time's public art exhibition Funk, God, Jazz and Medicine: Black Radical Brooklyn in 2014, which included Leigh's Free Peoples' Medical Clinic.
Bumbray is also an accomplished choreographer whose practice draws from traditional African American vernacular and folk forms. Her performances have been presented by Tate Modern, London; the New Museum, the Metropolitan Museum of Art, Harlem Stage, and SummerStage, all in New York; and Project Row Houses, Houston.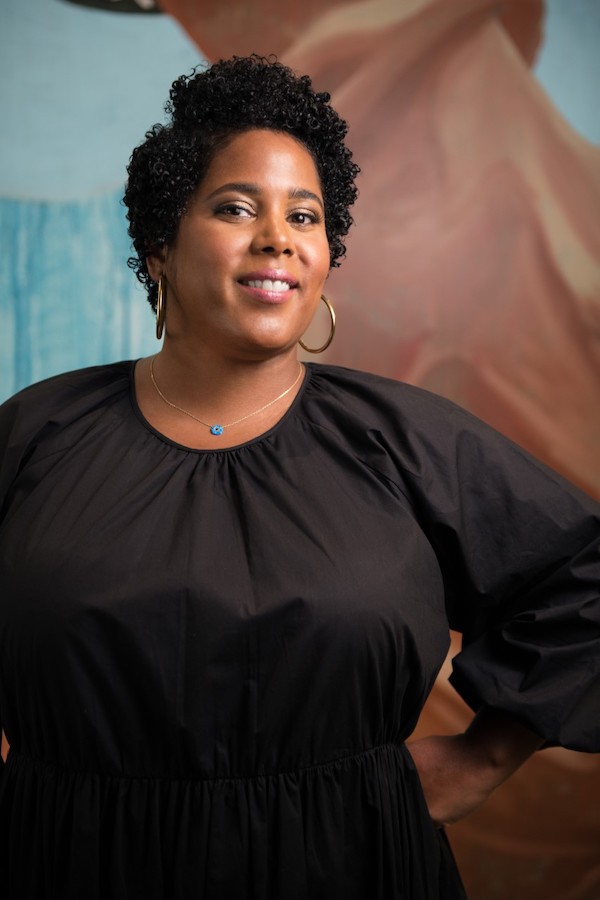 Practical Information

Getting to Fondazione Cini
The Fondazione Cini is located on the island of San Giorgio Maggiore, in the heart of the Venice lagoon, a five minute boat ride from Piazza San Marco. Because the event is accessible only by vaporetto, visitors are encouraged to leave extra time for travel.
From Marco Polo Airport: Alilaguna Blue Line or Red Line to San Marco.
From San Marco-San Zaccaria Pier B: Vaporetto n°2 to San Giorgio.
From Santa Lucia train station: Vaporetto n°2 to San Giorgio.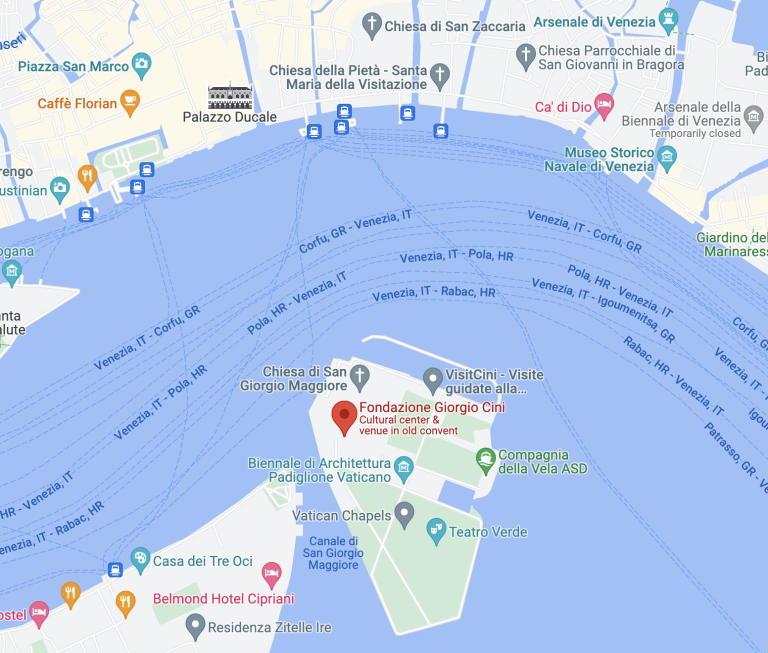 Staying in Venice
There are many hotels that are convenient to the symposium location for your weekend stay. We recommend the following:
Hotel Cavalletto & Doge Orseolo
FAQ
How does ticketing work?
When you reserve your free ticket to attend Loophole of Retreat: Venice, your name goes on the reservation list and your ticket is held. In summer 2022, each attendee will be contacted to confirm attendance and travel plans. This ensures that everyone who reserves a free ticket does so with the intention of attending. Since capacity at the Fondazione Cini is limited, only guests who are serious about attending should reserve a ticket.
Can I attend Loophole of Retreat: Venice virtually? Will there be a livestream?
Yes. There will be a livestream so that those who cannot attend in person are able to view the programming remotely. More information about the livestream will be shared in the coming months.
How do I visit other programming associated with the Venice Biennale?
Tickets for Loophole of Retreat: Venice do not include access to the 59th Biennale di Venezia. To visit Biennale Arte 2022: The Milk of Dreams and the National Pavilions of the Giardini and the Arsenale (including Simone Leigh: Sovereignty at the U.S. Pavilion) you can purchase tickets on the La Biennale website. Thursday, October 6, and the afternoon of Sunday, October 9, following the conclusion of Loophole of Retreat: Venice, are both excellent times for visiting the Biennale exhibitions.
Sign up for updates about Loophole of Retreat: Venice.